How has Covid impacted how we understand and articulate the gospel?
The knock at the front door was a welcome yet surprising sound in that second week of March 2020. Do you remember those early days of the pandemic?
Stuck at home, our time was spent in a whirlwind of confusion and fear, figuring out how to work online with an occasional side trip to a nearby grocery store for some competitive shopping with neighbours hunting for hand sanitizer or yeast for sourdough bread.
I opened the door and saw my wonderful (and immune compromised) neighbour in our townhouse complex standing on the porch, holding a neatly wrapped loaf of banana bread.
"I spent the morning baking," she said kindly, "and I thought you and the kids might enjoy a little treat with all that's going on." I smiled and thought that in a moment where "in person" connection was rapidly disappearing, my neighbour's selfless gift in my hands felt something like a piece of bread given by the Pastor during The Lord's Supper.
I closed the door and said to my wife, "I spent the morning out trying to find toilet paper meanwhile our neighbour was thinking of others, baking to bless. Some kind of Christian that makes me!" It's not the first time I've had that thought, mind you.
The banana bread blessing was an early reminder from the Holy Spirit that God was at work in the world (as God in Christ always is . . . saving, blessing, correcting, redeeming) teaching us to pay attention – or perhaps "p(r)ay attention" to how our understanding, experience and articulation of the gospel was going to change during this troubling time of pandemic.
We are not the first Christians to live through a time of pandemic, and church history is full of incredible examples of how Christians have lived selfless and sacrificial lives in the face of disease and disaster for the sake of their neighbour to the glory of God.
But how would we, in this generation, respond to the challenge before us? What might God teach us about what it means to be a follower of the risen Christ when the world was falling apart all around us?
As a missiologist I have written in other places about the impact of Covid-19 upon the life and witness of the Church in Canada, but today I want to simply name the curious impact the pandemic has had on us as Christians when it comes to our core theological understanding of incarnation.
Yes incarnation, the doctrine we return to every Christmas when we remember that the Triune God shattered any deist notion of divinity by coming to be with us in the person and work of Jesus Christ. Jesus – God to the rescue with skin on. Or, as Eugene Peterson so famously wrote of John 1:14, "The Word became flesh and blood, and moved into the neighbourhood."
Our Christian conviction that God exists as Trinity: Father, Son and Holy Spirit inspires us to live deeply into community with other human creatures, and God's wider world, since God exists as a community of mutual, self-giving love.
Of course, no Christian community is perfect and everything from Ananias and Sapphira in Acts 5 to Dietrich Bonhoeffer's Life Together reminds us of the actual challenge of developing a thick, gospel-based community with fellow redeemed sinners in a fallen world.
And yet, pre-pandemic, many of us experienced Christian community in a thin way to begin with. Yes, of course, Sunday worship and maybe a weekday program at the church building was the norm. But is that what God desires for us as witnesses to the gospel when it comes to sharing life together? And then the pandemic hit.
Suddenly even late adopters to online technology were playing catch up trying to transfer, translate or transform their Sunday worship experience to a virtual encounter with God and Christ's community. In addition, some church programs and activities could move online, while others were set aside.
Not all of that was bad, however. Some church traditions that should have died long ago (flea market anyone?) were finally set to rest. In their place, new opportunities for witness and service emerged for Christ's resurrection people. In fact, when working with church leaders today I often ask them two questions:
1. What's one thing that your church started during the pandemic that you pray will continue post-pandemic?
2. What's one thing that your church stopped during the pandemic that you pray will not begin again post-pandemic?
But in the midst of all of this starting and stopping, I began to wonder what it meant to be Christ's body in the world, an incarnational faith, in an exclusively digital format.
While there was much I was noticing about deeper relational connections online – for example, Zoom coffee hour following online worship created deep, theological discussion spaces rather than talking about the weather or how the Canucks played last night – but I also longed to sing God's praise in the same room as others and to catch up in person with those friends in Christ who I missed seeing face to face.
Yet, God was also opening up new relational, incarnational connections with our neighbours that many of us in the missional church conversation have been advocating for years.
No longer did someone have to read Jay Pathak and Dave Runyon's The Art of Neighboring to figure out how to connect with those around them. Now, stuck working at home, our back patios or front porches became mini-Emmaus road moments of revelation and refreshment.
Assumptions about what our neighbours needed or wanted supplied by the latest church growth or evangelism tool faded away. Now it was just us, sharing life in a troubled and lonely world – would our confidence and clarity in the saving power of Jesus be evident in our words and actions with the affable agnostics around us, for whom the claims of the gospel seemed odd or perhaps quaint?
In a fearful moment where politicians implored us to not "speak moistly" on one another, how would we, as the body of Christ scattered and sequestered in our homes be evidence of those for whom the risen Christ breathed saying, "Receive the Holy Spirit."
As we continue forward in this uncertain time of fluctuating COVID-19 case counts and the latest variant emerging, how do we as followers of Jesus live in community with fellow believers, and the wider world, offering hope beyond the latest press conference or promise to "return to normal?"
As those who are walking a pilgrimage with Jesus from baptism to life's end, how does our sanctified imagination help provide a different lens for ourselves, and those with whom we share life, for a hope that comes to us beyond human agency but rather finds its source in the holy work of Father, Son and Spirit?
After all, incarnation takes on different forms for us at different moments of our lives. It has always been so. For the early church, a letter carried over Roman roads by a trusted courier stitched the Christian communities together, as best as possible. Yet, even the epistle writer longed for more.
As 2 John 12-13 (MSG) notes:
 I have a lot more things to tell you, but I'd rather not use paper and ink. I hope to be there soon in person and have a heart-to-heart talk. That will be far more satisfying to both you and me.
As you reflect on what God has been teaching you, and your community, about incarnational presence during this pandemic, let us give thanks that we continue to be knit together by grace into the body of Christ for the sake of witness in the world.
Whether it is liturgy through a laptop, socially-distanced small groups in a park or the experience of your tablet becoming a table for communion – may Christ's gift of incarnation be not only yours, but shared generously as a blessing with all around. 
As poet Malcolm Guite reminds us of the incarnation, Jesus was born:
Born to these burdens, borne by all
Born with us all 'astride the grave'
Weak, to be with us when we fall,
And strong to save.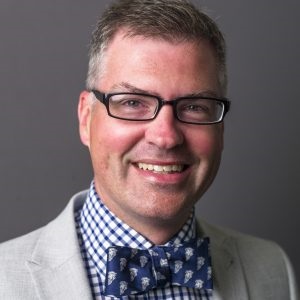 Ross Lockhart
Dean of St Andrews Hall and professor at Vancouver School of Theology